CABINE E IMPIANTI PER TOMOGRAFIA METROLOGICA 3D - CHEETAH
PRODOTTI E ACCESSORI > Cabine Radioscopia & Tomografia > Schede Yxlon
YXLON CHEETAH
Microfocus/Nanofocus X-ray Inspection System for PCBA and Semiconductors

YXLON Cheetah is a performance and efficiency oriented microfocus and nanofocus X-ray inspection system for the printed circuit board assembly (PCBA) and semiconductors industries. Get the highest resolution 2D and 3D imaging results.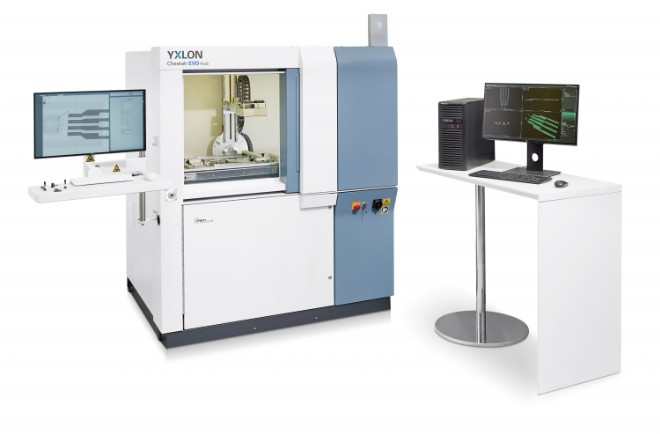 Exceptional 2D/3D image quality in the shortest time

User-friendly operation for high-tech inspections

One-click solutions for advanced manipulations

Best-in-class DR technology

Industrial quality computed tomography (CT) upgrade option
CHEETAH EVO SMT
SMT and PTH assemblies

PCBs

IGBTs
Benefits for SMT
Accurate, fast, and repeatable inspection - manually and automatically

High power, high resolution inspection of very small features

Easy to use, dynamic image enhancing filters, e.g. eHDR
Software
eHDR-Inspect




Improved, user friendly FGUI




Multi Area Void Calculation




Extended BGA Inspection




Extended ADR



System Highlights
Cheetah EVO SMT harnesses the combined power of several YXLON innovations - FeinFocus X-ray tube technology, High Power Target technology, a finely calibrated, long-life flat-panel detector, and a manipulator with cushioned bearings. The variety of sample tables ensures that it can generate 2D and 3D images in extremely high resolution.
In addition to imaging excellence, you can look forward to simple, user-friendly controls and YXLON FGUI - FeinFocus Graphical User Interface - software, not to mention the myriad benefits of comprehensive automation. One-click solutions make manual inspections effortless, while Easy Teach-In makes it simple to program the automated procedures that guide the operator swiftly through inspections - and deliver repeatable and reliable results.
Cheetah EVO SMT can be upgraded for CT with the optional microCT module. This enables CT for industrial quality assurance, with in-depth 3D examination of inspection items via virtual cross sections and layers. With its user-friendly YXLON QuickScan® module, it delivers 3D images and virtual slices within a minute.
CHEETAH EVO SEMI
CHEETAH EVO PLUS



Dati Tecnici

Attributo

Composizione

Massima Potenza del tubo

Tubo raggi-X

µCT Tempo Scansione

Massima Amplificazione Geometrica